Lets walk
We run a small organization; in fact a smaller organization with a broader vision. Located in a developing town of Kolhapur; in south western Maharashtra, we established a foundation in 1996; with a vision to provide a turnkey solution to people & organizations working in the field of developing & building roads. Roads… keeps us moving on & on. With the help of Active Software Consultancy & Research Pvt. Ltd.'s time tested solutions such as 'Active Road' & 'Active Bridge'; be sure that it fulfils your entire road & bridge execution requirements.
We are not the only players in this sector. Yes; but we assure the best quality product with numerous facilities in an affordable cost. The backbone of our software is of course our esteemed customers. After almost 20 years in the field of Civil Software Development, we dedicate each & every up gradation to our customers who supported us to walk further along with adds on facilities.
Now after a walkway of 20 years, we are proud enough to facilitate our customers with a full fledged software; up graded to the latest requirements in national & international market. Active Soft is committed to provide you the best & the latest techniques in related softwares.
Every road has barriers. Some are natural, some are manmade. To cross it, you need to put your mind beyond the barriers. And your body automatically follows. We did it. We crossed it; and now we are walking towards success. Confident enough to stand in domestic & international market.
After our journey of merely 20 years; and consistent development; we are here with two appropriate softwares.
One for the road and other for the bridge.

Girish Arekar, a man, in fact an ordinary man with average intelligence, after completing his diploma in civil, working as a civil draftsman in a small organization was inspired with an inquiry from local contractor. It was regarding designing a plan to build a new road. Girish took that enquiry in a different way. He began to think it to make easily; with some software tool. But it was not available. This unavailability of software was the beginning of his software company. Meanwhile he started coaching of MS office to manage his livelihood. Simultaneously he continued to develop his dream project.
In 1999; after working for 11-12 months software was ready to install. After consistent efforts for many months, in 2001 the software was appreciated & purchased by a road contractor in Konkan. Then onwards, many prestigious names were added in to the clients list. With more than 350 satisfied customers all over India; the software today facilitates its customers with utmost options in designs & calculations related to roads & bridges.

Warna engineering college; a famous educational institute in south west Maharashtra being a technical adviser & consultant of PMGSY (Pradhanmantri Gram Sadak Yojana) was in search of related software. The chief of Warna asked this requirement in an open market & published a tender notice. Many national & international software companies submitted their products. Among all, the core technical team selected our software considering its simplest user interface, easy accessibility and proper output.
This was the first turn when our company was marked in local & national market. Since then, till this date we never looked back and went on installing our product locally & nationally.

| | | |
| --- | --- | --- |
| | | Girish Arekar completed his diploma in civil engineering |
| 1998 | | Joined as a civil drafsman in a construction company |
| | | Started tutions of MS Office & Auto CAD |
| | | Designed the fisrt software : Active Road |
| | | Active Road : First client in Konkan |
| | | Active Road was purchased by Warana Engineering College |
| | | Girish Arekar completed his degree in civil engineering |
| | | Company was converted in to a Private Limited Company |
| | | BRO (Border Road Organisation), Tejpur purchased Active Road |
| | | Active Road was purchased by PWD, Kolhapur |
| | | Over 350 (and counting) satisfied clients all over India |

Our satisfied & esteemed clients
BRO : Border Road Organisation, Tejpur




PWD : Kolhapur, Ahmednagar & Pune east




Tatyasaheb Kore College of Engineering, Warnanagar




R. D. Samant, Ratnagiri




Prashant Maidase, Dhule




Ajay Pophalkar, Pune




Ram Narvekar, Chiplun




Sandeep Patil, Kolhapur




Rohit Ghatage, Kolhapur




Dayanand Jadhav, Kolhapur




Bharat Dafale, Kolhapur




Kamalkant, Lucknow




Sanjay Pisal, Satara




Shambhau Jadhav, Satara




D. D. Pathak, Lucknow




Arun Desai, Satara




N. P. S. Gill, Punjab




Jayram Kotera, Mandangad




Prakash Lohar, Gargoti, Kolhapur




Cross-Section is according to PWD standard format and details of area calculations as per your requirements.

Very easy field books data entry (Auto GRL calculation with change point).

Software gives you all drawing outputs in CAD (Optional) (L-Section, C-Section, Plans etc.)

Due to output in CAD you can use all facilities of CAD like zoom, pan, move or any alterations and addition in drawing. (You can copy drawing file for plotting anywhere).

Formation width may vary (may be left and right separately) will accepted.

There is facility to take different slopes for Carriage and shoulder (Camber).

You may give different slopes for inner or outer side of gutter, different heights & widths for left and right gutter.

You can easily change filling as well as cutting slopes. (If you have no slopes but have a meeting point i.e. distance & RL of null point it will automatically calculate the slopes).

If you have both RLs (GRL as well as FRLs) then also it calculates area between them.

You can easily shift the center-line left or right by giving the specific distance.

You can easily mark a new formation line on L-Section (in CAD). it will automatically Calculate the 2. grades (slopes) and accordingly that it will take FRLs to every chainage.

It easily calculates & draft of Vertical curves by deciding length of vertical curves (lvc).

You can easily get earthwork statement by giving starting and ending chainage (Part or full).

Haulage (lead) calculations (50m, 300m, 500m, 1 km or any of your choice).

For highways there is facility to generate the Laying chart (with any offsets).

By giving the chainage and fore-bearing you can plot the plan with bearing statement Table.

There is separate module for Super elevation & Horizontal curve design (according to I.R.C.)

Statements and RLs can easily export to excel (Earthwork statement, Haulage(laying) chart and GRLs, FRLs)

There is very easy facility to change the slopes, road widths, gutter details of specified length or all chainages and you get modified quantities with cross-sections.

There is facility to take out modified GRLs and calculate FRLs in Excel.

You can use this software for Road widening. (Without cut or fill on existing carriage.)

You can direct stretch the ground line on graph to correct the cross section.

Many PWD & ZP Sectional Engineers, Road contractors, Consultants are already using advantage of all above essential features & easy operations.

Active AccidentReporting Software :
HOW TO DRAW CROSS SECTION ON AUTOCAD BY USING ACTIVE ROAD SOFTWARE : Click here
HOW TO GET ALL CROSS SECTION PRINT BY USING ACTIVE SOFTWARE : Click here
ActiveBridge software for Hydraulic Calculation : Click here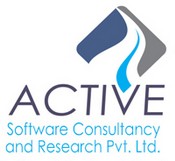 Active Software Consultancy & Research Pvt. Ltd.

Business Office

660 B Ward, Ganesh Apartment,
Near Old Deval Club, Kolhapur-416012.
Telefax: - +91 231-2549191.
Mobile No: - +91 9975593009.
Pachgaon, Kolhapur-416013.